Chicagoland's New Canopy Zipline Tour
November 15, 2014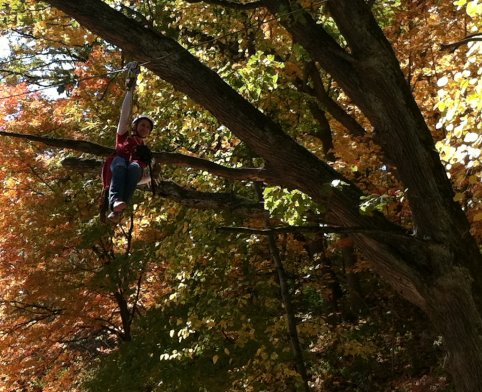 Zip Chicago is now in our off-season. However, we are still operating tours by appointment for groups of 5 or more.
Looking for employement at Zip Chicago? Check out our news section below, we are hiring!
Gift Cards - Note:
Please scroll down to about mid page on the left margin is a logo that reads EBL Gift card. Just click there to go over to purchase a gift card.
Just fill in the name of the person, message, and their e-mail if you want them to receive the Gift Card electronically. Otherwise, fill in your e-mail to receive the Gift Card and then you can print it off and give it to them on Christmas, stuff their stocking, or place the printed Gift Card inside a nicer card.
Then, choose the price point that fits them. The Gift Card will be worth face value for one year. If the recipient decides to attend a higher priced time, date, or is unable to verify the appropriate discount, they will only be charged the price difference.
Lastly, for the most flexibility, if you are purchasing multiple Gift Cards for different people, please purchase each one separately so each Gift Card receives its own unique token number. This way they may attend today or at different times and dates.
--------------
Birthday parties, Christmas parties, Family reunions, please e-mail or call the office to schedule your date and time.
Welcome to Zip Chicago!
Looking for that perfect daring escape for you, your friends or family? Zip Chicago Canopy Tours provides an experience you will not soon forget. It will create memories that last a life time. The tour has 6 different cables (150- dual racing 1,000 footers!) each with its own characteristic of speed, heights roughly 85 feet off the ground, and great oversights of the river valley below. Your own personal Chicago wilderness awaits, an adventure that will make you scream and giggle like you are a kid again. We have no age limits but we do have weight limitations; our minimum being 60 pounds and our maximum 270 pounds. The tour is completely guided and contains no motorized machines for propulsion. All you have to do is enjoy your flight! Our guests can reach speeds of up to 45 mph. The platforms and suspension bridges are surrounded by an assortment of native trees. Check out our different tours to see which adventure is the right one for you!
You will check in 30 minutes prior to your tour time to process payments and sign waivers. Then we will start the tour by zipping out the side of the building!
Zip Chicago, is a dynamic adventure brought to you by the industry leader, EBL, Inc. (Canopy Tours), a team that brings years of research and technical expertise to this location. Come and enjoy what we have to offer and bring your friends.
Read the article on Zip Chicago from Starved Rock Country on September 11, 2013. (Click Here)
March 25, 2015

Employment Opportunities: Zip Chicago is seeking Canopy Tour Guides (6 - 8 posiitons) and Office Staff (2 position) for the 2015 Season! The tour consists of 8 …
July 22, 2013

The 2013 season of ziplines at Zip Chicago is up by 300% due to our new 1,000 foot zipline and an economy stimulus price point of …
February 5, 2013

Zip Chicago is proud to the be participating in this years EBL Canopy Tours Corporate Summit. Managers and Guides from across the twelve course network will be gathering …
March 25, 2015
February 7, 2013